LNG Tanks
LNG Tanks storages liquified natural gas that has been liquified temporarily.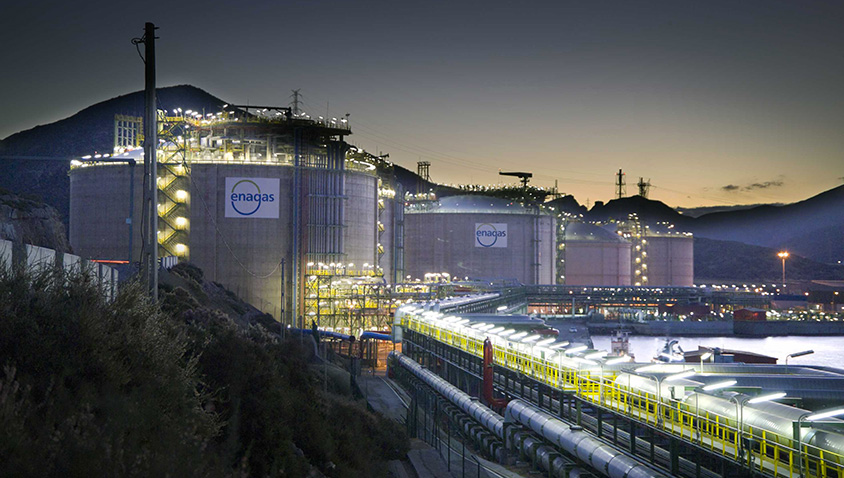 The conversion result is odorless, colorless, non-toxic and non-corrosive and it takes up about 1/600th the volume of natural gas in the gaseous state.
HOW?
Its main application is alternative fuel and local gas distribution when the network is not available.
WHY A LNG TANK NEEDS ELECTRICAL HEAT-TRACING?
Due to process temperatures of -170 ° C in the storage tank, heating is required to protect the foundation from icing and to prevent freeze-up of the concrete bottom of the tank.
TRACELEC® SOLUTION
Electrical Heat-Tracing using parallel type heating cables (Self-regulating and/or Constant Power) commanded by direct temperature control panels.
Where We Have Worked
| | | | |
| --- | --- | --- | --- |
| YEAR | PROJECT | LOCATION | CLIENT |
| 2012 | ENAGAS | Gijón - Spain | FCC |
| 2011 | SAGGAS | Sagunto - Spain | UTE Cobra-Sener |
| 2010 | ENAGAS | Huelva - Spain | UTE Acciona-Entrepose |
| 2010 | ENAGAS | Barcelona - Spain | FCC |
| 2010 | ENAGAS | Cartagena - Spain | Initec |
| 2008 | SAGGAS | Sagunto - Spain | UTE Cobra-Sener |
| 2008 | ENAGAS | Cartagena - Spain | FCC |
| 2006 | SAGGAS | Sagunto - Spain | UTE Cobra-Sener |
| 2006 | ENAGAS | Barcelona - Spain | FCC |
| 2005 | ENAGAS | Cartagena - Spain | FCC |
| 2001 | ENAGAS | Cartagena - Spain | Ferrovial |