CHEMICAL PROCESS PLANTS
It's an industrial process plant where a chemical product is manufactured on a very large scale.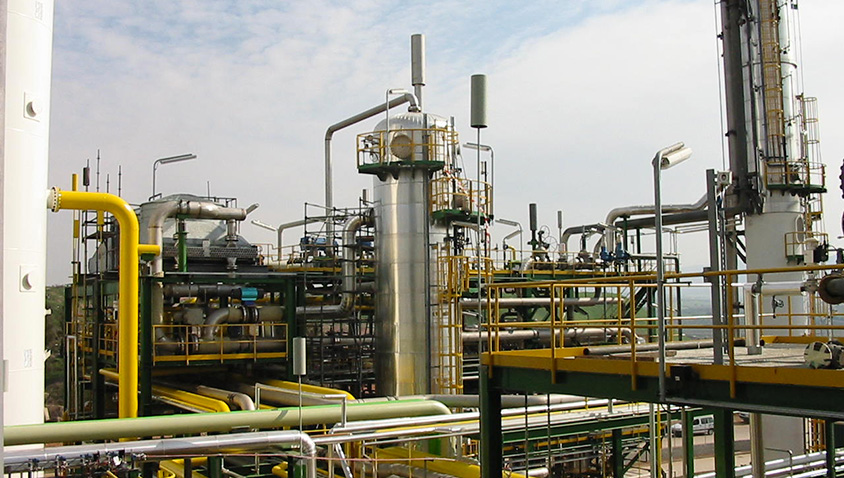 There is 2 process types: base and transformation.
HOW?
Involving chemical or mechanical steps.
WHY AN INDUSTRIAL PROCESS PLANT NEEDS ELECTRICAL HEAT TRACING
The Electrical Heat Tracing System guarantees the maintenance of the temperature in the pipes, tanks and process equipment. That maintenance prevents any problem derived from losing temperature in processes: obstructions and breakages, increased viscosity in fluids, condensation of water steam in gases and phase shifts...
TRACELEC® SOLUTION
Electrical Heat Tracing using parallel type heating cables (Self-regulating and/or Constant Power) and temperature control adapted to each process. All commanded by direct temperature and power control panels.
Where We Have Worked
YEAR
PROJECT
LOCATION
CLIENT
2011
CEPSA Huelva
Huelva - Spain
Cepsa
2009
AXIMA - Thermal Power Cas Tresorer
Mallorca - Spain
Endesa
2009
Biodiesel Ferrol
Ferrol - Spain
Isolux
2008
Cotinsa - BASF Dixquimics
Tarragona - Spain
BASF Dixquimics
2008
Seridom - BIO OILS
Huelva - Spain
Idom
2006
Cementros Alfa
Santander - Spain
Cementos Portland
2005
Repsol Química
Tarragona - Spain
Repsol
2004
BASF
Tarragona - Spain
BASF
2004
Liquid Terminals - Cartagena
Cartagena - Spain
Tepsa
2003
Navantia
Sestao - Spain
Navantia
2002
Azucarera